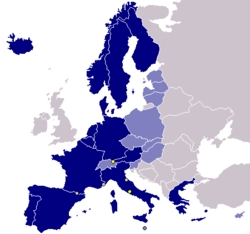 I. History
The representatives of five EU member states (Belgium, Germany, France, Luxembourg and the Netherlands) signed the Schengen Agreement near Schengen on 14 June 1985. Five years later, the same countries signed the so-called Schengen Convention. The Convention established procedures required for the legal and technical implementation of the Agreement. The Treaty of Amsterdam of 02 October 1997 incorporated the Schengen Agreement into the European Union Treaties, effective as of 1 May 1999. An exception was made for the United Kingdom and Ireland. These two countries still carry out border controls. The protocol incorporating the Schengen developments also meant that the European Union became responsible for further legal development of the Schengen system. The European Court of Justice has already had occasion to rule on the interpretation of the Schengen Agreement.
II. Content
For the content of the Schengen Agreement and the Schengen Convention please see the 2nd link in the list given below. The following points are of interest here:
1. Citizens of member states that apply the Schengen Agreement completely may travel freely between these states, without being subject to border controls.
2. Third country nationals (i.e. citizens of countries which are not part of the Schengen system) may enter and remain in the other countries which fully implement the Schengen Agreement,
if they have a valid visa from a country that fully implements the Schengen Agreement agree, that is not geographically limited, or,
if they are from a country whose nationals do not require a visa to enter the Schengen area (see the 3rd link in the list below)
Like the citizens of the Schengen area countries, they are not subject to internal border controls.
3. All citizens of third countries who have a valid residence permit for one of the Schengen countries and with a valid passport may travel to any of the other Schengen countries visa free for up to 3 months per half-year.
III. Countries participating in the Schengen Agreement
33 countries currently participate in the Schengen Agreement.
The great majority of these countries have fully implemented the Schengen Agreement:
Austria, Belgium, Denmark (incl. Greenland and the Faroe Islands), Finland, France, Germany, Greece, Iceland, Italy, Luxembourg, the Netherlands, Norway, Portugal, Spain and Sweden
A number of countries are in practice integrated into the system because they have an open border with a Schengen state:
Andorra, Monaco, San Marino, Vatican City
Other countries are about to become part of the Schengen system:
border controls (not goods checks) will probably be dropped by the end of 2006 / early 2007 by: Liechtenstein, Switzerland
border controls will probably not be dropped before the end of 2007 by: Cyprus, the Czech Republic, Estonia, Hungary, Latvia, Lithuania, Malta, Poland, Slovakia and Slovenia
Finally, there is the exception made for the United Kingdam and Ireland, according to which they participate in the Schangen arrangements regarding criminal prosecution and police cooperation but maintain separate border controls.
IV. Example – How long can a third country national stay in the Schengen area?
Section 6 (1) sentence 1 no. 2 Residence Act: "A foreigner may be issued a Schengen visa for stays of up to three months per six-month period (short-term stay), if the requirements for issuance as stipulated in the Convention Implementing the Schengen Agreement and the appurtenant implementing regulations are fulfilled."
Of particular interest here are cases where a foreigner enters Germany from a country which does not require a visa (see the 3rd link in the list below). If he requires a visa, the authorities will already check whether the applicant satisfies the prerequisites of Section 6 Residence Act at the time the visa is issued.
X is a Chilean citizen (no visa requirement for the Schengen area) enters the Federal Republic of Germany from Chile on 1February 2005. On 1 March 2005 he then travels from Germany to Turkey (not at present a Schengen member state). From Turkey, he travels back to Germany on 1 June 2005. X has no particular residence title.
Since X does not have any other residence title, his stay is governed by Section 6 of the Residence Act. He may therefore stay in the Schengen area for a period of three months per half-year.
This example assumes, that three months is equivalent to a period of 90 days. This information may also be found on the German foreign ministry website.
X therefore has the following options on 1 July 2005:
X can stay in Germany until 29.08.2005, because only then does the 90-day period expire (30 days in June, 31 days in July, 29 days in August). The first month need not be taken into account since the three month interruption and the short month of February means that no more than 90 days come together within a period of six months.
However, if he wishes, he can leave Germany too. But, if he wishes to have the full 90 days at his disposal again, he has to stay in a non Schengen country for at least 3 months. If for example, he leaves Germany on 1 July, then re-enters the country on 1 September and stays the full ninety days (roughly to 30 November) he would have spent 121 days within the past 6 months inside the Schengen area (seen from 30 November, the 6 month time period starts on 1 June; X spent 30 days in the Schengen area in June, 30 days in September, 31 days in October and 30 days in November).
V. Links
http://www.auswaertiges-amt.de/diplo/de/WillkommeninD/EinreiseUndAufenthalt/Uebersicht.html
Information from the German foreign ministry on visas, the texts of the Schengen Agreement and the Schengen Convention, as well as visa application forms in various languages
http://www.auswaertiges-amt.de/diplo/de/WillkommeninD/EinreiseUndAufenthalt/Schengen.html
Information from the German foreign ministry on the Schengen Agreement
http://www.auswaertiges-amt.de/diplo/de/WillkommeninD/EinreiseUndAufenthalt/Schengen.html#t3
List of countries stating those whose nationals require a Schengen visa
http://www.eurovisa.info/
Information on the Schengen Agreement in English
FREEDOM OF MOVEMENT IN THE EU
Citizens of European Union countries have the right to enter other EU states at any time and to remain there (freedom of movement) as well as to establish themselves there for purposes they themselves determine (freedom of establishment). Citizens of European Economic Area (EEA) states (Iceland, Liechtenstein and Norway) enjoy similar rights to EU-citizens with regard to freedom of movement. For the most part this also applies to Swiss nationals.
1. Citizens of Austria, Belgium, Denmark, Finland, France, Greece, Iceland, Ireland, Italy, Liechtenstein, Luxembourg, Malta, the Netherlands Norway, Portugal, Sweden, Switzerland, Spain and the United Kingdom have an unlimited right to freedom of movement and are allowed to enter Germany:
– to work, whether self-employed or as an employed person
– as provider or receiver of services
– as a student, pensioner, or someone not in gainful employment
– as someone with a so-called right to remain
– to seek work and for the purposes vocational or professional training
They are entitled by law to a certificate confirming their freedom to remain in Germany, the so-called Freizügigkeitsbescheinigung, issued free of charge by the residents' registration office (Einwohnermeldeamt or Bürgeramt).
The rules on freedom of movement do not, however, apply to all citizens of the EU countries mentioned above in the same measure:
EU citizens not in gainful employment, pensioners and students only have the full right to freedom of movement if they also have sufficient means to cover their subsistence and adequate health insurance. Health insurance is regarded as adequate if it covers certain medical services. The sufficient means of subsistence must be available at the time of entry into the country.
Right of entry into the country by family members from third countries: In principle, these family members of EU citizens with a right to freedom of movement have a right of entry provided they take up residence together with them. Family members include: spouses, cohabitant and same-sex partners; relatives in the ascending or descending line of the person with the right to freedom of movement or their spouse, cohabitant or same-sex partner who are under 21 years old and who are maintained by them.
Family members of EU citizens who are not in gainful employment, students or pensioners may only enter the country to take up residence with them if they have sufficient means to cover their subsistence and adequate health insurance. In the case of students, family members' right of entry is restricted to spouses, cohabitant and same-sex partners and any dependent children they may have.
Provided that the family members from non-EU countries meet the above criteria and that they are living with the person entitled to freedom of movement, they will be granted an EU residence permit (Aufenthaltserlaubnis-EU).
2. Citizens of the countries which joined the European Union on 01 May 2005 (the Czech Republic Estonia, Hungary, Latvia, Lithuania, Poland, Slovakia and Slovenia) seeking to enter the Federal Republic of Germany and to remain here permanently, do not yet have the full right to freedom of movement. At present, citizens of these countries have the right to enter Germany and to remain here if they have sufficient means to cover their subsistence and adequate health insurance.
Citizens of these countries wishing to enter employment or provide services in Germany will be issued a certificate confirming their freedom to remain in Germany (Freizügigkeitsbescheinigung) only if they have either a work permit (Arbeitserlaubnis-EU) or the German employment office, the Agentur für Arbeit, confirms that their activity does not require a work permit. A number of restrictions still currently apply to certain occupations, so that often work permits will not be issued.
Full freedom of movement will probably be introduced for these persons by 2011 at the latest. Until then, citizens from these countries wishing to work in Germany will mainly have to rely on the possibility of self-employment.
The same conditions apply to their family members' right of entry as is the case for other EU citizens.
3. Social security issues
An EU citizen becoming unemployed after having worked in Germany, and who has made unemployment insurance contributions and satisfies the general criteria, may be entitled to unemployment benefit. Any period of insurance coverage in other EU countries will be credited.
A person coming to Germany looking for employment and who still had a right to unemployment benefit in his or her home country can claim unemployment benefit here for up to a maximum of three months.
EU law does not give citizens the general right to claim social security benefits (such as Arbeitslosengeld II). Those with a right to remain and persons employed in Germany can, however, claim to social security or supplementary benefits.
Moreover, those EU citizens with a right to remain or who are working in Germany are entitled to a number of social privileges, such as educational allowances, child benefits or rent subsidies subject to the same conditions as apply to German citizens.
The extent to which other EU citizens (those not in gainful employment, students, pensioners etc.) may claim these benefits, has to be established for the individual case by consultation with the agency responsible.
Qualified foreigners can apply for an EU Blue Card, which allows them to practise an occupation matching their qualifications. This card can be issued for four years if an unlimited employment contract has been granted, or if the employment contract is valid for at least four years.
To obtain a Blue Card, the applicant must have a recognised German university degree, or one that is comparable with a German university degree. Furthermore, the applicant must receive a salary of at least € 48,400.00 gross or, in the case of the so-called understaffed professions, € 37,752.00 gross per year. The understaffed occupations are as follows: natural scientists; mathematicians; architects; spatial, town and traffic planners; designers; engineers; engineers operating in various fields of engineering; doctors of human medicine; and academic specialists working in the fields of information and communications technology. If these preconditions are fulfilled, the applicant will not need to obtain the consent of the Bundesagentur für Arbeit (Federal Employment Agency). This shortens the procedure considerably.
If you require a visa, you must first obtain a corresponding visa from the German embassy before you enter the country, so that you can then obtain the corresponding residence permit pursuant to Section 19a AufenthG (Residence Act).
In the case of Blue Card holders, the right of settlement can be issued after thirty-three months have elapsed, provided that compulsory contributions and/or other expenditures have been made to a pension scheme comparable with that of the statutory pension insurance. After twenty-one months have elapsed, the settlement permit (Niederlassungserlaubnis) will be granted to those who can demonstrate their language proficiency at the Language Level B1.
Family members of Blue Card holders are also entitled to live and work in Germany.
SELF-EMPLOYED NON-EU CITIZENS
According to the provisions of the new Residence Act (Aufenthaltsgesetz) of 1.1.2005, foreigners may be granted a (temporary) residence permit (Aufenthaltserlaubnis) for the purpose of self-employment subject to the following conditions (Section 21 Residence Act):
1. if an overriding economic interest or a special regional need applies,
2. if the activity is expected to have positive effects on the economy, and
3. if they have sufficient funding for their business concept, either from their own resources or through a promise of credit
The prerequisites 1. and 2. are generally deemed to have been met when the investment is at least EUR 1 million and ten jobs are created. If this is not the case, the assessment as to whether the conditions have been met (and with that the question of whether a residence permit can be issued) will be made after considering the following points:
1. the sustainability of the underlying business concept,
2. the applicant's entrepreneurial experience,
3. the amount of capital invested,
4. the effects on the domestic labour market and education situation and
5. the contribution made to innovation and research.
The local bodies responsible for the planned activity, the trade supervision authorities, the public law professional associations and the authorities responsible for admission to a trade or profession will be involved in the decision.
Foreign applicants aged over 45 must prove that they have made adequate provision for their old age as an additional prerequisite for a residence permit to be issued.
The foreign applicant has to supply the required proof of the above mentioned prerequisites.
If the foreign applicant successfully implements his business idea and his subsistence is assured, he may be apply for a (permanent) settlement permit (Niederlassungserlaubnis) after just three years instead of the normal five years.
Special provisions exist for the Dominican Republic, Indonesia, Iran, Japan, the Philippines, Sri Lanka, Turkey and the USA:
Germany has signed treaties of friendship, trade and on residence with these countries with provisions granting favourable or most-favoured nation status. These treaties and provisions mean that citizens of these countries can be granted a residence permit for the purposes of self-employment subject to conditions differing from those mentioned above. The treaties reduce the authorities' margin of discretion, requiring them consider applications with the maximum possible goodwill. They cannot, for example refuse an application for a residence permit simply on the grounds that it fails to meet a public need.
Bulgaria and Romania:
Applications by nationals of these two countries are privileged due to Association Agreements between them and the EU. Applicants need merely show genuine intent to pursue a self-employed activity. This and the general profession and trade restrictions are all that need be checked. It is no longer permissible for the authorities to check whether the activity meets a public need.
However, the residence permit (Aufenthaltserlaubnis) issued in this way does not grant access to the general labour market either.
Advantages of getting married in Denmark
Getting married in Denmark can bring a number of advantages. The procedure is less bureaucratic and a marriage can therefore take place at short notice. However, the same bars to marriage which would make a marriage invalid in Germany also apply, such as bigamy or the partners being underage or closely related to each other. One can therefore say that a marriage in Denmark may be quicker but it is not necessarily "easier" or a marriage with fewer preconditions.
If someone decides that these advantages mean that they wish to get married in Denmark, then, in the case of German or other EU-nationals, all that is required is a birth certificate and a certificate of registration as a resident or "Meldebescheinigung" (if appropriate an "Aufenthaltsbescheinigung") that gives details as to ones address and whether one is married or not.
Getting married in Denmark as a non-EU national
Requirements include birth certificate, residence permit and a certificate confirming the holder is eligible to marry. If one of the two future spouses has been married before, evidence of the divorce and/or dissolution of that marriage is also necessary.
No-one who is illegally staying in the European Union can get married, since the Danish authorities will ask to see a residence permit. In all events, the requirement is that the stay in Denmark must be regular and legal! Thus no marriage is possible for a foreigner who is seeking political asylum in Germany or who is staying there on the basis of a "Duldung" or toleration.
Care should be taken to make sure that foreign documents have been legalized (by apostilles) and that the translations have been certified by an authorized translator. Documents in English and Danish are acceptable without translations.
Links
www.gkmuenchen.um.dk/de/menu/Konsular+Dienst/EheschliessungInDnemark/
ADRESSE
Kanzlei Svenja Schmidt-Bandelow
Hardenbergstr. 19
10623 Berlin
KONTAKT
Fon +49 30 859 625 70
Fax +49 30 851 59 51
Mail ra@svenja-bandelow.de
TERMINE
Terminvereinbarungen gerne telefonisch während unserer Bürozeiten (Mo – Fr, 9 – 18 Uhr) Beratungen persönlich, per Telefon, Facetime oder per Skype